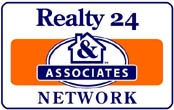 Higher Standards

Better Results

Click to visit our affiliates' websites:

SAMPLE MATERIALS — SELLERS

SAMPLE MATERIALS — BUYERS

CLICK ON SAMPLES TO SEE FULL SIZE

CLICK ON SAMPLES TO SEE FULL SIZE

The Company retains the services of two graphic arts firms to produces a variety of marketing materials targeted to buyers, sellers and agents. While some may seem odd or even irrelevant to the untrained eye, they are each designed to generate interest and capture clientele or personnel precisely at a point of decision, while preempting competition.

Our agents receive special training in the use of the Buyer and Seller materials, which are provided to them at no cost.

Agent materials are generally used for recruiting purposes.

The Company will support our Referrals Only agent network with a 'drip campaign' system — a series of emails that are sent regularly and automatically on behalf of the referral agents to those on their prospect list.

We will be happy to explain how these materials are deployed. Please feel free to ask.

SAMPLE MATERIALS — AGENTS

CLICK ON SAMPLES TO SEE FULL SIZE